BARN QUILTS OF UPSTATE NEW YORK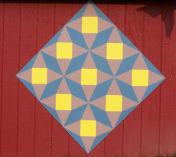 Barn quilts have been part of the American farm landscape for nearly 300 years; they were introduced to our country by newly immigrated citizens who used this simple art as a way to decorate barns & other farm structures, and to help provide directions (pre-GPS!) to travelers. I think they are a simply lovely way to wrap your barn in love & warmth!
My quilts are available in a variety of colors and sizes, and custom orders are available. Each quilt takes about one week to complete. Feel free to ask about your favorite quilt pattern!
I use quality, pre-sanded 1/2" birch plywood: strong but light enough to easily hang. It is primed, and all colors are hand-painted using at least 2 coats of Behr exterior semi-gloss enamel, known for its fade-resistance & durability. All quilts are then given 2 coats of varnish. To hang, simply pre-drill holes and screw / nail to your structure; touch-up paint is provided.
We live in the small farming community of Westford (zip 13488), which is
15 minutes from Cooperstown, New York. Shipping for sizes smaller than 2' x 2' will range from $10 - $15. Shipping for sizes 2' x 2' is $20.00, and shipping for 2' x 4' panels is $35.00. Contact me for delivery or shipping costs on the large 4' x 4' barn quilts at 607 397-8381.
---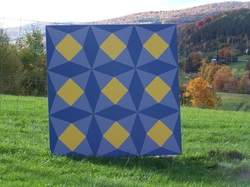 DIAMOND STAR

An "illusion" quilt, done in yellow & 2 shades of blue.
4' x 4'
$500

---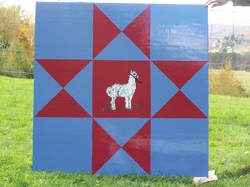 OHIO STAR WITH ALPACA
A white & grey alpaca hand-painted in the center square
4' x 4'


$400
---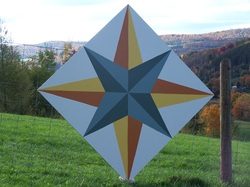 THE HERKIMER DIAMOND
An original design, inspired by the Herkimer diamond mine
4' x 4'


$300
---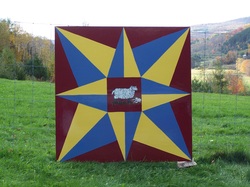 TRIPLE STAR WITH SHEEP & LAMB
The sheep & her baby are the focal point in this crisp red, blue, and yellow Triple Star Quilt
4' x 4'


$400
---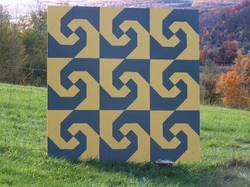 MONKEY WRENCH
A traditional pattern, in bright yellow & green
4' x'4'


$500
---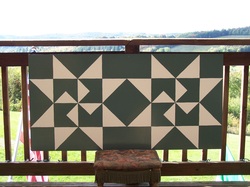 DOUBLE PINWHEEL PANEL
Painted in a deep mossy green, on brilliant white
2' x 4'


$200
---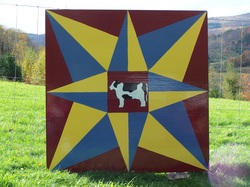 TRIPLE STAR & COW
Cute beyond words, this cow profile will enhance your farm!
4' x 4'


$400
---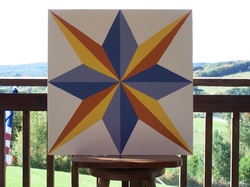 THE HERKIMER DIAMOND

This original design is in orange, yellow, & 2 shade of blue
2' x 2'


$150
---
STARS & FOUR-PATCH
~ SOLD, orders only ~
Done in traditional red, white and blue
4' x 4'
$500.00


---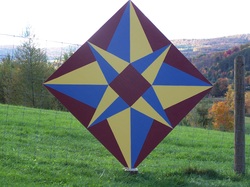 TRIPLE STAR (adaptation)

Bold & beautiful
4' x 4'


$300
---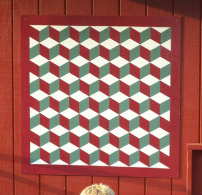 TUMBLING BLOCKS
~ SOLD, orders only ~

A lovely "illusion" quilt
4' x 4'
$500

---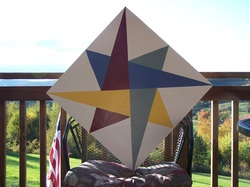 FIREWORKS STAR
Crisp & clean, looks great straight or on point
2'x 2'


$150
---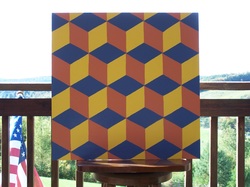 TUMBLING BLOCKS
Another "illusion" quilt
2' x 2'


$150
---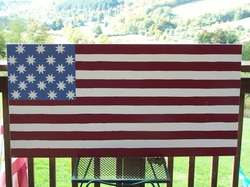 THE AMERICAN FLAG
Patriotic! Looks good when hung sideways too!
2' x 4'


$200
---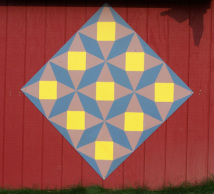 THE DIAMOND STAR
~ SOLD, orders only ~
An "illusion" quilt. Circles appear, but all lines are straight
4' x 4'
$500

---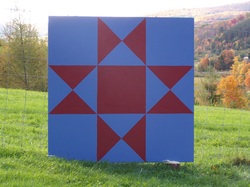 OHIO STAR
Simple, yet elegantly

traditional
4' x 4'


$300
---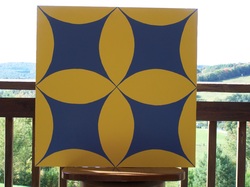 ROBBING PETER TO PAY PAUL
A quilt lover's favorite!
2' x 2'


$150
---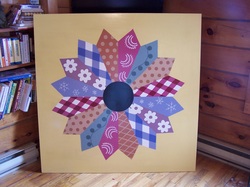 SUSAN'S GREAT-GRANDMOTHER'S DRESDEN PLATE

I was commissioned to replicate a gorgeous antique quilt by the great-grandchildren of a gifted quilter. It was a lovely project for me; as I selected my colors and patterns to mimic the original, I felt as though I was in tune with "Great-Grandmom" when she selected her fabrics so many years ago.

Contact me if you have a beloved quilt that you would like to turn into a wooden showpiece!

---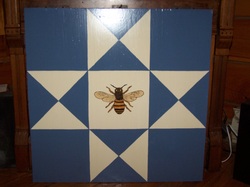 THE BEEKEEPER'S QUILT
~ SOLD ~ Orders only
$150

A stunning rendition of a honeybee, done on a 2' x 2' Ohio Star.
---